COSMETIC EYELID SURGERY
It's amazing how a quick procedure can subtract years off someones appearance.
-Dr Haas
About Dr Haas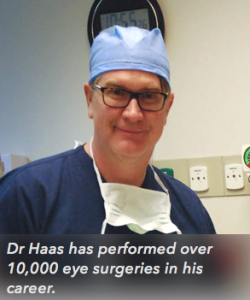 Dr. Haas is an expert oculoplastic surgeon having taught and performed thousands of surgeries in the past 25 years. He is board certified and is a clinical associate professor at UCF School of Medicine. His approach to surgery is unique. He customizes every procedure to suit the needs and desires of his patients without compromising safety or function. His surgical assistant often jokes about his surgical versatility by saying; "I've never seen you perform the same surgery the same way twice."
A couple words from recent patients
Looking younger and more refreshed
★★★★★
"
I have been thrilled with my recent eye surgery lift. I believe I look very natural and no one seems to know, except I look younger and more refreshed. Dr. Haas did an excellent job and his staff are wonderful!
"
Complete Trust in Dr. Haas
★★★★★
"
I have had 3 successful surgeries with Dr. Haas and have been very pleased. I also had a serious infection that had been misdiagnosed by another physician. Dr. Haas knew what the problem was and treated it properly. I have complete trust in Dr. Haas!
"
The New YOU!
Subtract years off your appearance
An understanding and experienced Doctor
Gain more confidence