Boutique Eye Orlando Holiday Special
December 4, 2014
Why Our Patients are Raving about BlephEx™
January 2, 2015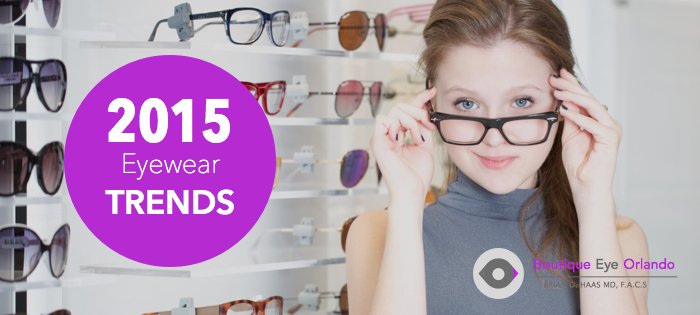 Thinking about new glasses? Create a new you! At Boutique Eye Orlando, we'll help you find the perfect pair to break in 2015 in style.
Here are our picks for this year's best trends in men's and women's eyewear.
For Women
The Oversized Look
Go big or go home. That's the statement behind the adoption of oversized eyewear, which provides maximum effect while still allowing for a wide range of styles and colors. If you like to make big entrances, this look is for you.
The Dark Look
Mysterious is always in fashion, and that's precisely what the dark look accomplishes. In traditional eyewear, dark frames provide excellent contrast, framing your eyes and letting the light shine through. In sunglasses, dark tones accentuate the mystery of your eyes. Either way, the message is clear: I'm dark and complicated.
The Bright Look
Like every great force, every great look can produce an equal but opposite look. If dark isn't your thing, you're in luck: bright is back. Bright frames work especially well in winter weather, often providing a great contrast to the backdrop of snow and grey skies. With bright colors that bring out the color of your eyes, you can provide the warmth.
Aviators
Every season, an old classic becomes a new classic. In 2015, Aviators provide a modern image of the femme fatal, drawing from the allure of the oversized frame trend. This year, you can find aviators in a variety of colors, as many eyewear designers are embracing this classic vision of feminine mystique.
Cat-Eye Frames
Cat-eye frames are a big hit this season, mainly due to their versatility. The cat-eye shape flatters a wide variety of facial shapes and complexions, so chances are you can find a cat-eye style that looks great on you.
For Men
The 70s Look

The 70s are back with a vengeance. Whether it's the classic aviator frame or the wayfarer, these timeless designs are getting updated with a modern touch, and the result looks great on any guy.
Black, Black, Black
Black is always in, but this year, the man in black is especially so. Some are going entirely black for their sunglasses, creating a dark and mysterious look. Some just like the simplicity of the all-black frame. Either way, black is back.
The Wooden Look
Look into any fashion magazine and you'll see the return of the lumberjack aesthetic. Men want to look and feel like men again, which is why the wooden look has come back so strongly.
The Geometric Look
Smart never goes of style, and many designers have embraced the geometrical precision of the man-about-town look. The lines of the geometric look are crisp and simple, exuding an uncomplicated charm. Perfect for the "creative type".
Wide Frames
Guys tend like things big, and wide frames tell the world you mean business. Wide frames highlight square jawlines especially well, and tend to give the brow line a forceful look while softening the eyes.
Wrap-up
Whether you're going for dark and mysterious, bright and breezy, strong, or smart, 2015's eyewear trends have a little something to offer everyone.
But don't take our word for it. See for yourself- ask Dr. Brian Haas about the latest eyewear trends on your next visit, and find out which frames bring out the best in your eyes.