Dry eyes could be a sign of Sjögren's syndrome
September 4, 2014
Boutique Eye Orlando Holiday Special
December 4, 2014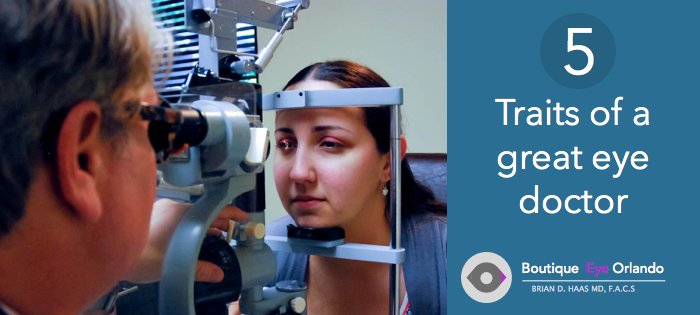 Think for a second about your eyes. Think about the vastly complex, intricate process that must happen to give us the gift of sight. If a single aspect of that process is even slightly off, the whole thing falls apart.
The eye also happens to be one of the most delicate parts of your body. Other than your skin, it's the only organ completely exposed to the elements.
So why would you trust your eye care to just anyone? You wouldn't, of course. But do you know what to look for in an ophthalmologist?  How should you select an eye doctor?
Experience     
Because eyes are as unique as you are, each presents unique challenges, so experience is key, and should be the first question you ask. How long has the eye doctor been practicing?
If you have a pre-existing eye condition, find out about his or her experience with that condition. All the experience in the world won't matter if they don't know how to treat what ails you.
Training
Experience means nothing if it's built on a foundation of improper training. Luckily, it's easy to perform a quick check online for licenses and schooling. The license should be either from the state board of optometry or the state medical board.
If you don't recognize the school your prospective eye doctor went to, it's a good idea to do a little research on the school, too.
Peer Recognition
If an eye doctor has received any recognition from his or her peers, that information will almost certainly be available directly on the website (probably in an "about us" page or "awards" page).
Look for any lecturing or teaching the doctor has been asked to do, recognition from industry magazines, or even recommendations from other respected Orlando eye doctors.
Personalized care
Experience, training, and peer recognition speak to the skill of a surgeon. They don't speak to the compassion necessary to understand the individual needs of each patient, and to provide each with personalized care and attention.
Talking to past patients is the easiest way to gauge the level of personalized care you'll receive. Look for online forums or blog posts, but remember to cast your net wide: the opinion or experience of a single person may not be indicative of the level of care you'll receive.
Accessibility
Last, but most certainly not least, a premiere ophthalmologist must be available to his or her patients when needed. Like personalized care, talking to past patients is the simplest way to gauge an eye doctor's level of accessibility.
Wrap-Up
No single factor can determine whether or not a particular Orlando eye doctor is the right choice for you, but when taken as part of a whole, these five factors will give you a great idea of what to expect.
About Orlando Eye Doctor Dr. Brian Haas
Dr. Haas as has served on the teaching faculties of Bethesda Naval Hospital and the USF Medical School in Tampa. Currently, he is an Associate Professor of Ophthalmology at UCF Medical School in Orlando. From 1999 to 2009 Dr Haas served 5 consecutive terms as the department chairman of ophthalmology at Orlando Health. In 2012 he was selected by US News and World Report magazine as one of the top ophthalmologists in the country. 
Read his full bio here.