Dr. Haas voted as Top Doc by Orlando Life Magazine
August 20, 2014
Six Myths About Botox
October 22, 2014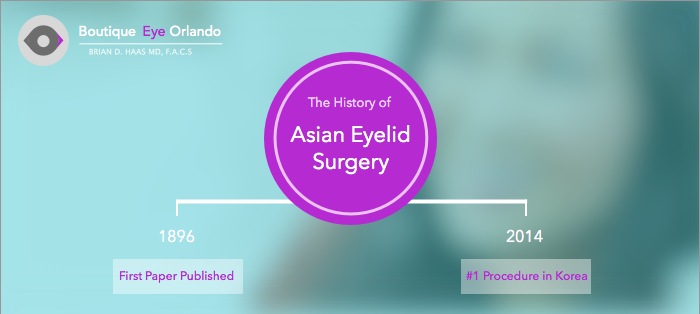 Asian cosmetic eyelid surgery and blepharoplasty is performed more than any other cosmetic procedure in Asia. It's also the third most commonly requested procedure among Asian Americans and something surgeon Dr. Brian Haas specializes in.
So why is the procedure so incredibly popular? Let's look at what the procedure is, what it isn't, and a bit of the history behind it.
What it is
1 in 2 Asians are born without an upper eyelid crease, one of the defining features in someone of Asian descent. Asian eyelid surgery simply creates that crease.
What it isn't
Some assume that the Asian eyelid surgery is an attempt to "westernize." The history of the procedure, though, is a bit more intricate. The first documented case of the procedure was written in the 19th century. At the time, there weren't many Westerners in Asia. The cultural influence of the West hadn't yet taken hold.
A brief history
The influence of Western culture was just beginning, however. As Japan began to open to the West, Asia was exposed to the women's movement taking place there. The idea of women's equality appealed as strongly to the East as it did to the West.
Mikamo, who published that first paper in 1896, became a pioneer in "double eyelid surgery" by incorporating the concept of women's equality into his practice. By undergoing Asian eyelid surgery, Asian women were, in some sense, declaring their right to be equal.
Asian Eyelid Surgery Today
Today, Asian eyelid surgery is desired and performed for a number of reasons, all nuanced and deeply personal. And the procedure itself is just as nuanced. In fact, it has been described as an art, rather than a science. As such, it requires the most skilled hands, modern tools, and most importantly, effective communication between the surgeon and patient.
The procedure may be covered under your insurance plan, when indicated as an improvement to peripheral vision.
If you're considering Asian eyelid surgery in Orlando, FL, Dr. Haas will provide the experience, the skills, and the communication required to create a more youthful and energetic appearance, while maintaining your personal and cultural integrity.

ABOUT DR. BRIAN HAAS
Dr. Haas as has served on the teaching faculties of Bethesda Naval Hospital and the USF Medical School in Tampa. Currently, he is an Associate Professor of Ophthalmology at UCF Medical School in Orlando. From 1999 to 2009 Dr Haas served 5 consecutive terms as the department chairman of ophthalmology at Orlando Health. In 2012 he was selected by US News and World Report magazine as one of the top ophthalmologists in the country.