Dr. Brian D. Haas' Pioneering Work in Eyebrow Procedures Means Better Results for You
November 11, 2014
Boutique Eye Orlando Holiday Special
December 4, 2014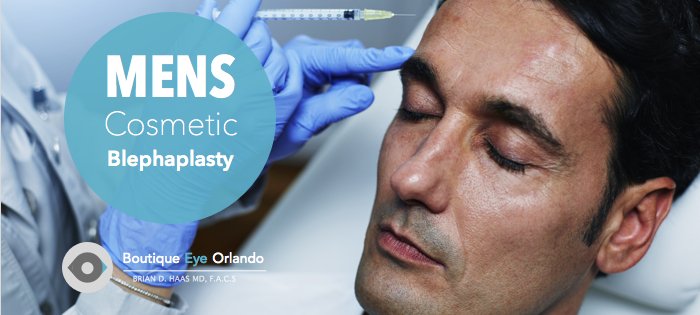 We all know the feeling that comes with knowing that we look good, and the confidence that comes with that knowing.
At Boutique Eye Orlando, surgeon Dr. Brian D. Haas knows what it takes to make a man look his best. That's why his blepharoplasty eyelid procedure is so popular among Orlando, Florida men.
There are many reasons Orlando men opt for blepharoplasty. Here are the five we hear most often.
Career change
As we move up the ladder, we want to look our best. To take on a new role, whether you're switching companies or being promoted, is an exciting thing. Many men feel rejuvenated by the new role, and simply want their appearance to match that rejuvenation.
Major life change

A major personal life change—a divorce, a relocation, or retirement—can have a drastic impact on our frame of mind, too. Whether you're looking to pick yourself up or celebrate the future, blepharoplasty can give you the confidence you need to move forward.
Looking better
Hey, we're guys, but that doesn't mean we're immune to the simple lure of looking better. We all want to look our best, and many men who come through our doors just want to present the world with the best version of themselves.
Feeling better
You know how you feel when you walk out of the barbershop after a great cut? That energy, that spring? Imagine taking that feeling with you every day when you walk out the door in the morning. Blepharoplasty results last, which means the confidence, and the energy that comes with it, lasts, too.
Motivation
They say a journey of a thousand miles begins with the first step. For many men, blepharoplasty is that first step. Maybe you want to stop smoking, or lose weight, or hit the gym more. Either way, momentum is crucial to developing better habits, and many men choose to get the momentum going with blepharoplasty.
What is blepharoplasty, anyway?
It's pretty simple, really. There's a ligament behind your eyelids that gets weaker as you age. As that ligament weakens, the fatty tissue behind it pushes the ligament forward, and that pushes your eyelids down and out. That's why many older men look tired or angry all the time- because their eyelids sag, or they're puffy.
Blepharoplasty reinforces the structures that support the eye by removing or redistributing that fatty tissue, and removing excess skin. It smooths wrinkles around the eye and removes bags under the eye that make you look tired. It even improves your field of vision in the process.
Think you might be a candidate? See our mens blepharoplasty page for more details, or to schedule an appointment to find out how Dr. Haas can help you look and feel your best.