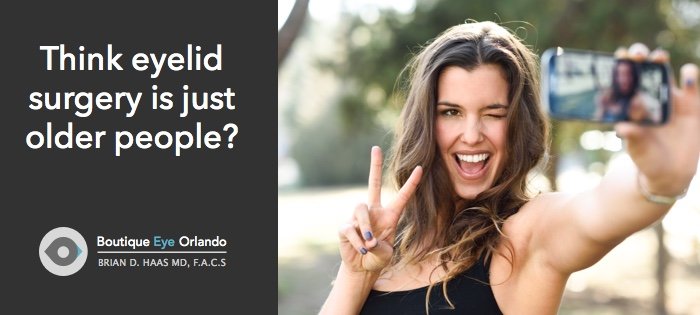 Think about the traditional eyelid blepharoplasty surgery patient. What kind of patient do you see?
Most likely, you see someone trying to reverse the signs of aging: the excess skin and fat that causes the eyelids to lose their youthful shape and vigor. Eyelid surgery, or blepharoplasty, is a simple procedure that restores lost youth by removing some of the excess fat and skin. It restores the vitality lost to time.
But there is another group that often comes through our doors with a simple goal: to remove the bags under their eyes. In Orlando, surgeon Dr. Brian Haas sees patients young and old who can benefit from an eyelid procedure.
Blepharoplasty for the Young
True, aging is the primary cause of the symptoms that eyelid surgery reverses, but most often, that's the result of gravity. As we get older, the excess skin starts to sag, so we make a small incision, remove the fat and skin that's causing the eye to sag, and that's that.
In some, though, gravity isn't the culprit. In many cases, simple genetics causes the eyes to droop, or bags to form under the eyes. In these cases, the fix doesn't even involve removing fat, just rearranging it a bit. Since the bags are often the result of a bit of excess fat, a skilled blepharoplasty surgeon in Orlando can simply redistribute the fact to create a more even, youthful appearance.
And since young skin tends to be more elastic, it bounces back more easily and quickly. That tends to help with recovery.
Dr. Haas also sees many patients in Orlando, FL who simply want to improve the creases of their upper eyelids, either because the crease has never been very visible (simple anatomy) or because the creases in either eye aren't quite symmetrical. Again, this is a relatively easy fix with eyelid surgery.
Is eyelid surgery right for you?
If you're considering eyelid surgery, the best option, as always, is to speak to a trusted professional. Dr. Brian D. Haas helps patients both young and old overcome natural puffiness or bags under the eyes, or diminished or uneven eyelid creases. To learn more, give us a call to schedule an appointment.