I have cataracts. When should I consider cataracts surgery?
April 9, 2015
See like Superman!
June 9, 2015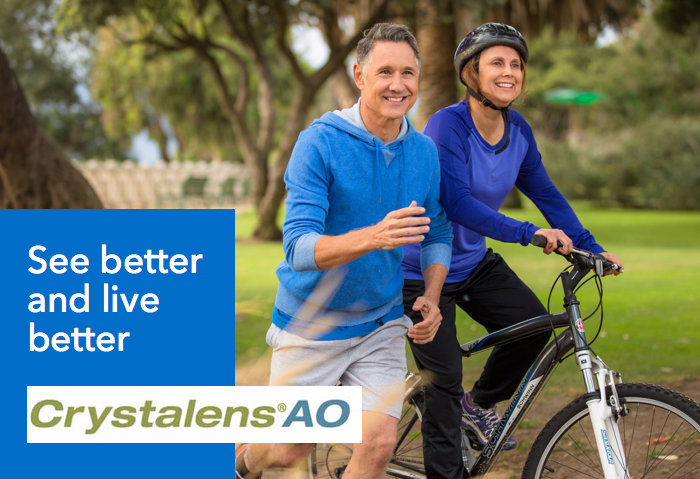 Boutique Eye Orlando has talked about cataractsⁱ quite a bit on these pages. Perhaps that's because it's the most commonly performed surgery in the US, with over 2 million people undergoing the procedure every year in the US (that's 8,000 per day!).
Perhaps it's because over 20 million people over 40 suffer from cataracts.
Or perhaps it's because the treatment is so simple, so safe, and so effective.
We've talked about all of that including TRULIGN™ lenses, a particular type of intraocular lens called an accommodating lens that moves as your eye moves to enhance your range of vision.
We were particularly excited for this technology to become widely available, and we proudly introduced it to our patients. We've seen some great results with TRULIGN™, but now we have something else we'd like to share with you.
Meet Crystalens.
Crystalens: what it is.
Like TRULIGN™, Crystalens is made by Bausch & Lomb, one of the most respected names in eye health for more than 150 years. That's important to us at Boutique Eye Orlando since we wouldn't trust your eyes to just anyone.
Also like TRULIGN™, Crystalens is an accommodating lens, so it moves with the natural movement of the eye to improve your range of vision.
Crystalens: what it does.
Crystalens is the first lens of its kind and Dr. Brian Haas was one of the first ophthalmology cataract surgeons to insert this premium lens.
It was modeled after the human eye, so it's designed to more perfectly replicate the eye's natural movements and abilities, and it comes so close to the natural function of the eye that it became the first and only FDA-approved accommodating intraocular lens (IOL). It's also the only FDA-approved IOL that uses the eye's natural focusing ability to create better, more dynamic vision.
The Crystalens actually uses the eye muscle to flex and accommodate to the movement of the eye, so it can focus on objects at all distances. It works in perfect synchronicity with your eye.
Because of this breakthrough, not only is Crystalens the first FDA-approved accommodating IOL, but it also corrects presbyopia, a condition that often accompanies cataracts and makes it hard to see at near and intermediate distances.
It does this by providing a single focus point throughout a continuous range of vision.
Because Crystlens replicates the natural conditions of the eye, Crystalens patients rarely need glasses. In clinical trials, an astounding 88.4 percent of Crystalens patients could see better at all distances. For standard IOLs, only 35.9 percent could say that.
So here's what Crystalens does for you:
It produces a brighter and clearer vision across a range of distances, so you can see as clearly as you could when you were younger.
It broadens your range of vision.
It helps maintain the clarity of your vision.
It doesn't require adjustment.
Simply put, the Crystalens treats cataracts and presbyopia and gives you a fuller, more natural range of vision.
Of course, all the clinical trials in the world don't mean anything until you see the difference for yourself.
And, like any procedure, Crystalens may not be right for everyone. If you think you might benefit from a Crystalens IOL, get in touch. Dr. Brian D. Haas in Orlando, Florida will assess your specific needs and make sure you know all of the options available to you. If the Crystalens is a good fit, you'll be on your way to clearer vision from almost any distance.