COSMETIC EYELID SURGERY
It's amazing how a quick procedure can subtract years off someones appearance.
-Dr Haas
About Dr Haas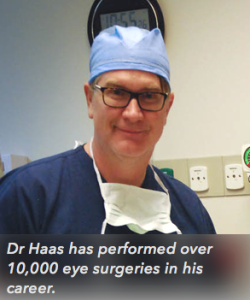 Dr. Haas is an expert oculoplastic surgeon having taught and performed thousands of surgeries in the past 25 years. He is board certified and is a clinical associate professor at UCF School of Medicine. His approach to surgery is unique. He customizes every procedure to suit the needs and desires of his patients without compromising safety or function. His surgical assistant often jokes about his surgical versatility by saying; "I've never seen you perform the same surgery the same way twice."
A couple words from recent patients
Great Experience
★★★★★
"
It was a great experience. Very little swelling or bruising. I healed nicely. At 3 weeks everyone said I looked great! I am pleased with the results.
"
a Great Job
★★★★☆
"
My surgery is healing and the result of my plastic surgery is very good. Unless I tell someone that I have had it done, they don't even notice it. My former doctors said you did a great job. Thanks to you and all your staff who are always nice and caring.
"
The New YOU!
Subtract years off your appearance
An understanding and experienced Doctor
Gain more confidence